I bought a 40-Anniversary Carrera because it was an amazing amount of car for an amazing price not as an investment. I am not afraid to change things up as long as the work is somewhat reversible. You know, in case I need to sell it to fund a hemorrhoidectomy or something.
Black accents, Lower, Louder, & Big brakes. I'm done for now.
I'd like to think Porsche could have offered such a car in 2004.
With just 35,000 miles on the odometer and 25,000 on the motor (IMS failure) the car is practically new and was priced to sell. Finding any X51 power package equipped 996 with this mileage is pretty unlikely so that makes me a fancy-pants guy.
I'd say the Carrera T is my benchmark. Not overly powerful, but well sorted for Touring.
It comes with something odd, a warranty. What would I do without the worry of breakage?
In an ideal world, I'd live in an RV and get a loan for a new Carrera T. I've always wanted a new unscratched Carrera. The 996 is as close as I'm gonna get in this lifetime. And like any new sports car, it isn't an investment, so let's piss off the traditionalists, shall we?
Here are my 12 steps to ruining the originality of my car.
1. Sell the exclusive 40AE luggage to fund this blog
Buying the most maligned Carrera of our time left me with money left over but not enough. So I sold off the exclusive 40 AE luggage to have even more money to play with. I know I'll kick myself later, but bipolar car disorders come with some regrets.
Ash, enjoy them! They were sold for some worthy causes below




2. Embrace the 996 Headlights.
I am NOT going to deal with those fried egg lights. Something this polarizing must be celebrated. Think of it as Cindy Crawford's mole, but two of em.
I'm going full-on with #FriedEggPride
3. Pay tribute to the past with Cocomats.
These old-school mats were common in German cars 40 years ago like Carreras and 356s. I think they have a place in an Anniversary Edition car. Made of
woven coconut fibers, we are recycling all that coconut water consumed by hipsters.
Custom a back window deck , just cut a template and mailed it to them.


Black and white hides Oreo crumbs well. Good thing.
4. Enhance wheel appearance with overpriced rotors.
The OEM wheels are too good to replace so I opted to enhance
behind
them instead. Giro-Discs are pretty, and the notable braking improvement was a side benefit.
Bigger, lighter, floating design.
Better than black, but not quite red or yellow. Painted em blue.
5. Porsche Sport Exhaust, sort of.
Porsche failed by not adding a powerful exhaust note to match the more powerful X51 motor package. I have rectified this with Fister HD's muffler mod. For 10% the cost of the sport exhaust option ($4500) you get the same design w/o the ability to turn it off. Who the hell would turn it off?
Recent PCA tour, Bruce's Seal Grey 996's ride height put me to shame.
Something had to be done, and fast.
6 Stance Stance Stance, $400
The 40 Jahre had the good sport suspension option included but being in the USA they were forced to make it a monster truck for DOT compliance. Some geniuses suggest I need new shocks designed to match my 1/2" drop in height. RUF and I disagree.
RUF springs are same spring rate, just a tad lower.
Fister's don't need ceramic coating but I couldn't resist.
7. Making the car recognizable
Porsche went all out with a silver that's 10% different, Whoopie Do! Although GT Silver was an exclusive color, it isn't that distinctive. I solved this with a few hideous satin black accents for bedazlementation. I'll try to pass them off as OEM.
Inspired by the new 991T decal. I think these are pretty understated.
others have likened it to a tatoo on my face. Each to his own I guess
Man Cave hooked me up with my "blackening" thanks guys.
At least now I can find my car during PCA club drive events.
8. Vanity Plates
It's easier for fill out Hotel forms if you have a plate you can memorize.
40 Jahre is German for 40 Fast years
9. RUF Wheels.
If/when I'm stupid enough to buy them, I'll get them painted darker grey too. For now I'm skipping this step. See, I'm not completely insane.
Maybe someday RUF will get the website certificate right and the links will work.
11. Fancy navigation and back up camera.
Be real, nobody harkens back to 2004 and fondly remembers poor navigation systems. It's not a crime to update a radio in a 996 like it might be in a 50's Speedster. That said, it's cool goodies like this that make you get a loan and just buy new. I
t's nearly $4000
to put high end system in right.* Thats money you will never get out of an automobile, so for a guy that rarely keeps a car for 2 sets of tires, I cannot afford this kind of indulgence.
*
By high end I mean Apple Play, Garmin NAV (no data signal required), hidden GPS antenna and camera parking technology. You can do less, but for me it would be all or nothing. Porsche used fiber optics in this car, which adds $ and complexity. Perhaps specialized "MOST" adapters are a way to save here, I am still waiting on Proof of this concept but many installers I've spoke with won't warranty them and fader control is lost. Any audiophile would want more power since Porsche's amps are under powered in their minds.
Porsche used fiber optics in the 2004 Carrera, so retrofitting fancier radios is hard.
So hard that i'll keep my money and buy a iPhone mount instead.
If you are balling after xmas call Rod https://cai-store.com/ he drives a 996
11a. iPhone Mount.
This I
can
do. And since its from
Suncoast, a Porsche specialty company, it costs $45
instead of $10. Worth every penny. iPHone mount, cheap thrills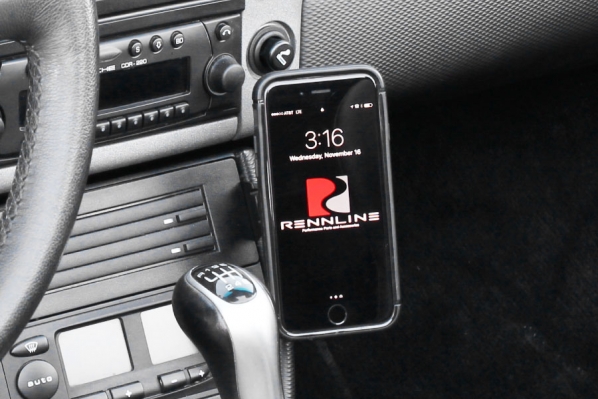 Worth every penny. iPHone mount, cheap thrills
12. Make your passengers comfortable.
While Porsche sells a child seat, you really want one
w/out a
rmrests. It makes it easier to reach the buckles.